Specifically, a project convertible truck? I know logically that now is not a good time (very recent college grad, limited income, ancillary responsibilities, etc.) but is it ever a good time? I'm always going to have external, practical expenses to dedicate that money to, like a stupid mortgage or child or something, so why not make that mistake when I'm still young and have a wealth of opportunities in my mistake account?
For the last three years or so I've desperately wanted a number of project cars. The first desire was a Miata. Specifically, one lived on the Austin Area Craigslist for years that didn't run, but had a Jackson Racing supercharger. That morphed into a 2nd generation MR2 because I liked their power potential (but not their snap steering). I veered away from understeer and fell in love with 5.0 Foxbody Mustangs, albeit never pulling the trigger there either. I still love that stupid, rattly hatchback. The Porsche 944/951 Turbo became a fixation as well at some point. I must love crappy hatchbacks.
As my automotive knowledge grew and I developed an affinity for impractical SUV's that desire transformed into an FJ40 ($$$$), then an BJ70 ($$$), then a Suzuki Samurai (how do you make half of a dollar sign? S), with numerous YJ Wranglers and E36 M3's peppered throughout. I think the desire for an odd SUV stemmed from the fact that I've never owned one. Four sedans, one hatchback and two coupes. Nothing that could pop a curb, although I did that one time inadvertently in my SRT-4. It had two blown shocks so it was probably fine.
Then by accident, I discovered the first generation 4Runner. I'm sure I'd seen one before, but it was like the homely girl taking off her glasses in every movie. She's beautiful. Oh my god it was both an SUV and a convertible. Oh my god it was so practical and so pointless. Oh my god it was body on frame. Oh my god I have to have one, and the one I wanted was very specific. I think about this amalgamate, imaginary 4Runner multiple times a day and I'm going to show you the closest possible representation of what it would look like in real life.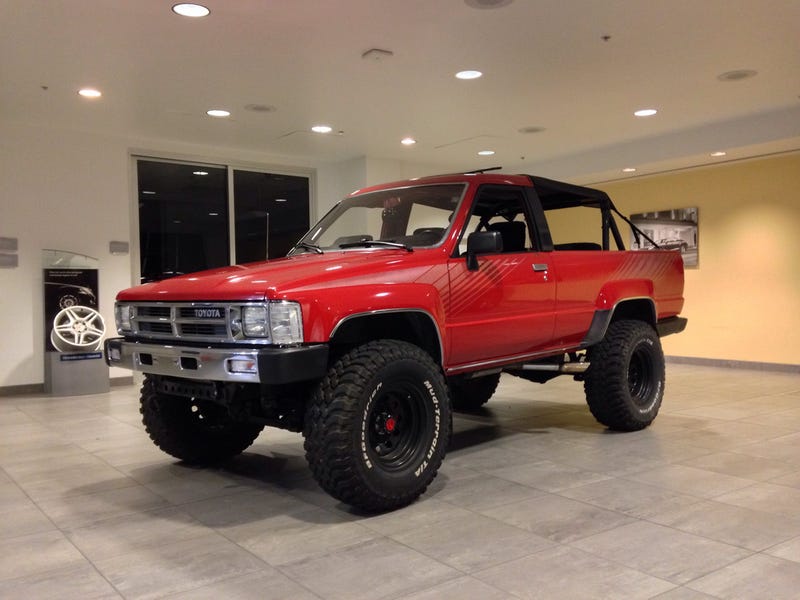 I just really, really, really like the Imported Eighties. They knew how to do graphics back then. And vehicle design. That is exactly what I'd want, but in either Medium Blue or Medium Blue Metallic with the same graphics and the 33-35 BF's with the work wheels. I could do without the side-exit exhaust though. The bikini top is also a necessity, but I'd like to have the hardtop available in case I needed this big ball of impracticality to earn its keep in moving a buddy out of his apartment every now and then.
I'm sure everyone in the car enthusiast world feels this pull at their loins, but there's something so powerfully alluring about someone else's dirty project car. You look at it and think, I could wash that! Or, I could drop the transmission on that! I fantasize regularly about teaching myself about working on cars mid repair after already having purchased some problem-prone rust bucket that I tell myself I'll have running by the end of the year (which is probably what this blog will turn into). The truth is, I don't know what I'm doing. Every project car looks equally great because there's no way to know the extent of what's wrong with any of them. They are all equally black holes of time and energy and money. I guess you just buy one and hope for the best, right? I'm guessing that's part of the fun but I think it's time for me to find out on my own.
That said, if anybody's looking to offload their project in Central Texas, I'll be the guy on the corner of Congress and 4th with the cardboard sign that says need money for project car.