ATSUV: A phrase/acronym that is made up, probably by me, to signify an SUV (sport-utility vehicle) with an alternative topping method. Or, an Alternative-Top SUV. Examples include some models of Ford Bronco, Chevy K5 Blazer, the first generation 4Runner, the FJ40, the Jeep Wrangler, or the Daihatsu Rocky if-ya-nasty.
If you're reading this, chances are that you ended up here by accident. I don't know how that happened. Maybe you saw me comment on something on Jalopnik and thought man, who is that asshole and what else does he comment on? But maybe you also know me, and if that's the case, you're probably aware that my greatest automotive passion is for alternatively-topped SUV's, to the point where I felt it was necessary to coin a phrase.
I made that decision when I realized that there was no comprehensive term that described the versions of hard-topped cars offered in other configurations. The Land Rover Defender models were simply called 'soft top', along with the Jeep Wrangler. Some are called 'convertibles', others 'laundau' (even thought that is 100% incorrect), and some have dumbass, proprietary names like Cross-Cabriolet. But we're not talking about the history of other SUV's, we're talking about the Bronco.
Oddly enough, most full-page advertisements for the original Bronco list every single feature except for its open air capabilities, so it has no official name. Apparently, power steering is sexier. Weird.
Additionally, I also recently learned that it was technically illegal to remove the roof on the 5th generation Bronco! You know, the OJ one! The white one. The one with the chase? And the glove?
Were you even alive in the 90s? Whatever.
As it turns out, Ford intentionally placed the federally-mandated 3rd brake light on the removable top, so that when it was removed, it became a vehicle in violation of federal law. A big fuck you to buyers excited about their new opportunity to tousle the hair of their passengers. Maybe Ford just wanted to add to the 'bad boy' image popularized by OJ Simpson. Or maybe they wanted to build a car with a removable top in the spirit of the original and didn't want anyone to enjoy it. We may never know.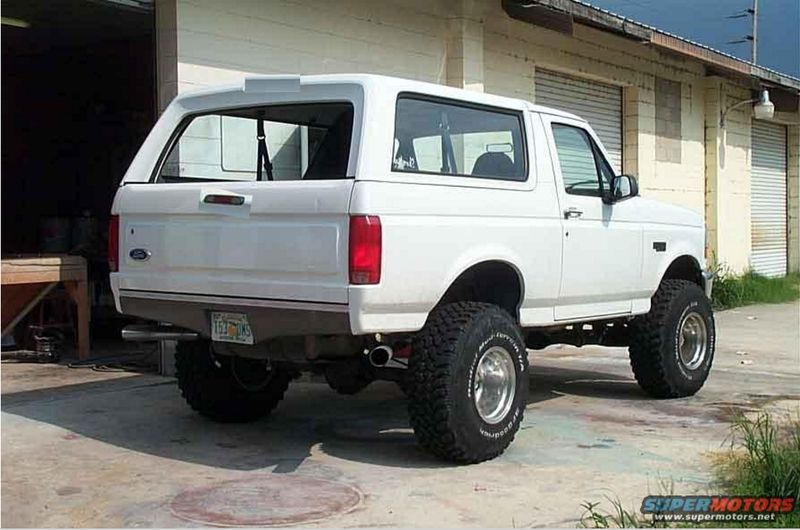 So as it turns out, the ability to remove the roof has never really been paramount to the production, marketing, or lifeblood of the vehicle in the eyes of Ford. I am confident, though, that the given reason did not affect Ford's decision to not introduce the 6th generation Bronco with an ATSUV option. That reason is really simple.
It's because nobody cares. Well, nobody except for me. Let's first talk about feasibility.
Because of modern collision requirements, todays ATSUV's do not work in four-door configuration unless the roof has multiple removable panels, a la Wrangler. This is because the Wrangler has reinforced B and C, and D-pillars like a baby roll cage, so it can meet crash test standards and other bureaucratic nonsense. So, for the unfamiliar, the hard top roof comes off in multiple panels that slots between each of these corners of 'roll cage,' and do very little for the car's overall protection. In contrast, the two-door Bronco had a body-incorporated B-pillar, and the two-door Blazer had nothing at all. There is no way that an SUV without B or C-pillars could possibly pass the NHTSA roll-over test, so a full-length, fiberglass top is out of the question.
To continue the explanation, the 4Runner (also two-door) had a C-pillar roll bar disconnected from the body panels, which it could get away with because it was a two-door SUV. Aside from the Wrangler, the last two-door SUV that you could purchase brand new in America was the Chevrolet Blazer, in 2002. Everyone's favorite automobile. Would you trust a version of that car with a removable fiberglass roof and no reinforcement pillars? Here's a picture of a Blazer rolled over. To drive this point home, Jalopnik just recently reported that the four-door Wrangler far outsells its short-bus counterpart.
So, a two-door Bronco is out of the question, for that reason alone. If you want my opinion, I also believe it's out of the question because I imagine it will be positioned as the Everest-based little brother of the Raptor, to avoid cannibalizing sales from the Explorer. It may even get the Raptor front-end (which would be neat, like that one guy's mockup). The Raptor is also very much up-market, and has straddled the line between 'glamorous' and 'capable'. American markets have proven that bigger is better, and I'm sure the big three have determined that there is no market for a smaller (than the Raptor), bigger (than almost anything else) option with only two doors.
So now what?
The only crash-test-friendly design for a Ford Bronco would have to incorporate a multi-panel roof design, much like the Jeep Renegade's Magic Sky system. I don't know what the roof lines are called that run perpendicular atop the A, B, and C-pillars, but those become locked in place; a permanent buffer between you and the open air. And I know that isn't the end of the world, but its the beginning of a train of small concessions that will lead to a Bronco that much more strongly resembles the Everest. First, it was entirely open-air, with only a windshield. And even that could fold down. Then, it added a roof over the driver for compliance with the NHTSA and to more easily adapt to sitting on a shortened F-150 frame and body. Now it stands to entirely be absorbed by a currently standing product, like the Everest. Or the Explorer. Or the Escape. The difference between a product plan in which it is built on the Everest or the Escape is frankly a rounding error at this point. It's already lost its own chassis, its own body panels, and its freedom. So lets just hope that it keeps its spirit.